Child-friendly Report & Accounts for well-known charity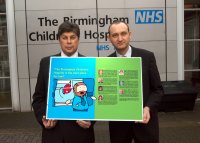 L to R: James Manning of Metropolis 2 with Stuart Reynolds of Birmingham Children's Hospital Charities, with dps from new look Birmingham Children's Hospital Charities Annual Report
Aim
Design a fresh approach for an Annual Report on behalf of a charity
Background
Birmingham Children's Hospital Charities (BCH Charities) is an independent registered charity which exists to raise and receive donations for Birmingham Children's Hospital and ensure the proper spending of monies received. Meeting the regulations imposed upon it in common with all charities involves, among other demands, the production of accounts and an annual report.
Brief
Make a quantum leap from the original reports - typed on A4 and issued with the accounts or A5 brochure format using colour photography – to something stakeholder-friendly.
Strategy
A brain-storming session led to a concept which would provide data required by the Charities Commission and a children's tale in storybook style on the facing pages.
Campaign
The agency developed a storyline to engage the children while conveying messages about the good works of the Children's Hospital to adult readers. Once the words were agreed the studio, under Glen Williams, created supporting design and imagery. The package was presented as a storyboard to an enthusiastic reception. The design also featured a tear-off postcard for readers to receive further information or make a donation - including a Gift Aid declaration, via which BCH Charities can claim tax back on every £1 donated by UK taxpayers.
Results
The new format proved to be effective among internal audiences, particularly doctors and nurses, who draw inspiration from the types of projects funded in the past to come up with new initiatives, research, facilities and treatments. Patients, families and friends liked the new look so much that they took copies away with them. Again, this was important in helping BCH Charities convey its messages. The first edition of the Annual Report in the new format was so well received that the style was again used for the following year, utilising the same images (to optimise the budget) but in a different order and with new copy.