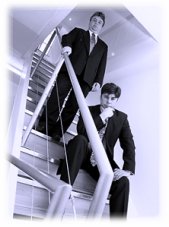 Birmingham-based PR & marketing agency, Metropolis 2, was founded in 1997 by James Manning and David Price. The agency's name was chosen to reflect their Birmingham roots – James and David reasoned that if London was the Metropolis, Birmingham had to be Metropolis 2.
The guys' commitment to Birmingham is such that they invested in season tickets at Birmingham City FC as part of the agency's corporate hospitality programme. Their office in the heart of Britain, close to good motorway, rail and airport links is helpful in their delivery of regional, national and international PR and marketing campaigns.
Birmingham has evolved so that today it's regarded as a premier European city. Metropolis 2 also continues to evolve to serve client demand and keep at the forefront of the marketing profession. Contact us to see how our evolution can revolutionise your PR and strategic marketing.