PR and direct marketing campaign sees glasses raised at launch of bar in The Mailbox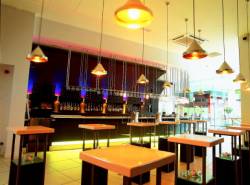 Aim
Launch the INK Bar Salon Privé
Background
Part of Big and Blue Ltd, INK is the first bar outside London to offer a salon privé for events and occasions. INK's site in The Mailbox, Birmingham, underlines its position as one of the most stylish venues in the UK.
Strategy
INK's objectives called for a campaign integrating PR, database management, direct mail and telemarketing.
Campaign
The operator wanted 200 guests to attend the launch - each had to be of influence in the City.
Metropolis 2 knew Birmingham's "A-list" and they were the first to be entered on to an INK database, followed by key individuals, "movers and shakers" in their fields – professional services, business, fashion, retail, media, sport. Stylish invitations were issued and the Metropolis 2 team tele-marketed the targets to ensure coordination of diaries. The agency organised media briefings so that as the invitations landed upon invitees' desks, information on the exciting new venue appeared in the press.
The weekend before the launch, INK dominated the front and inside pages of The Birmingham Post Saturday section – a broadsheet. The telemarketers found that the target guests referred to the coverage and reacted positively to it.
Metropolis 2 negotiated a column in The Birmingham Post's Style Magazine - a first - and also negotiated that a photographer from the regional daily covered the event gratis for the events/local celebrities' supplement. National publications, from daily and Sunday newspapers to men's and women's lifestyle magazines were also targeted with, and picked up on, propositions to do with the stylish nature of the venue and the owner.
Results
203 guests attended the launch event, including Birmingham's A-list. Photographs from the opening appeared in the press. Coverage of INK appeared in national newspapers, e.g. Independent on Sunday, You Magazine etc as well as lifestyle magazines such as GQ, Loaded, Esquire, Elle etc.
The salon privé has been fully booked and was the venue for the national launch of a definitive tennis book (at the time of the Davis Cup), and the launch of the Mini Moet Champagne.
The Style column still continues and the database has been used for a number of subsequent strategic initiatives.